GCS News
November 18, 2020
GCS SUPPORTS THE UNITED WAY
The employees of GCS Credit Union recently made their United Way pledge for 2021. This year, GCS went above and beyond expectations. Employees pledged a total of $17,422.88. As always, the Board of Directors will match the pledged amount and GCS will make a total donation of $34,845.76.
The United Way's mission is to, "improve lives by mobilizing the caring power of communities around the world to advance the common good." With support from the community, United way can help families and individuals put food on the table, stay safe in their homes, get connected to mental health resources and so much more
GCS supports numerous charitable organizations each year, which include The Make-A-Wish Foundation, Pound Pets, and The Greater St. Louis Honor Flight.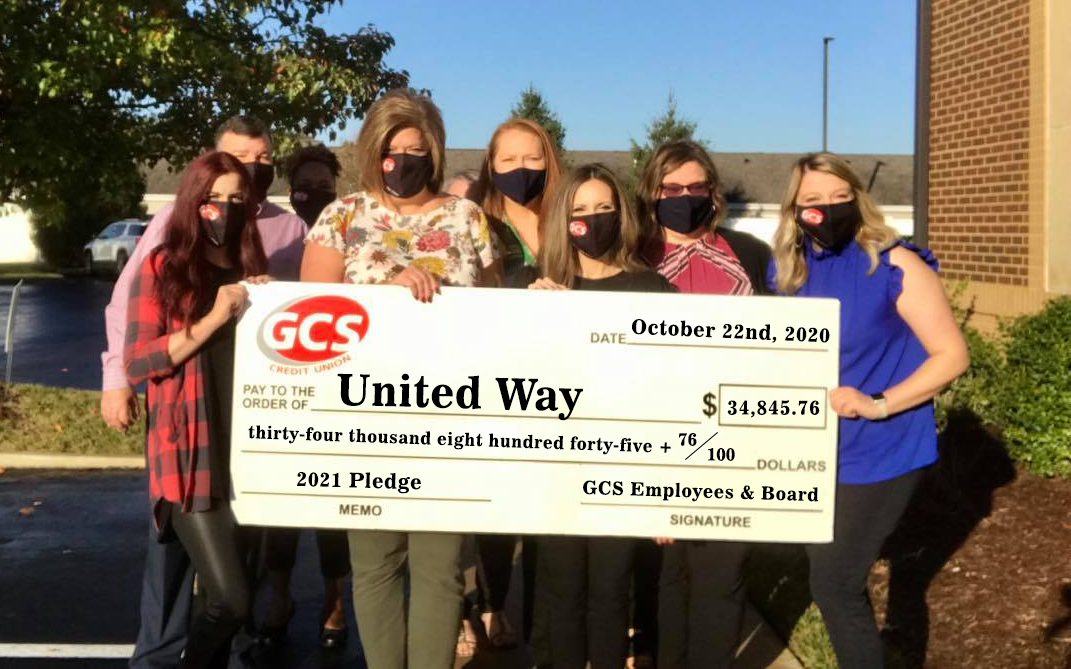 October 30, 2020
GCS TARGETED IMPACT FUNDING PROJECT
GCS Credit Union is committed to supporting our members and communities, now more than ever. GCS partnered with the Federal Home Loan Bank of Chicago and provided $15,000 to local non-profit organizations. A donation of $5,000 was given to The Latino Roundtable of Southwestern Illinois, Rebuilding Together Southwest Illinois, and The Good Samaritan House.
The Federal Home Loan Bank of Chicago's (FHLBank Chicago) Targeted Impact Fund provides members with grants to support relief efforts for populations hardest-hit by COVID-19 as well as to promote equality and opportunity for diverse communities. We hope this assistance can help them continue to do great things in our communities.
Credit unions believe in the people helping people philosophy, and during the COVID-19 pandemic GCS strives to lift up our communities.
Connect With Us
Call Us: 618-797-7993
Toll Free: 1-866-231-4427