GCS News
GCS CREDIT UNION CELEBRATES 80 YEARS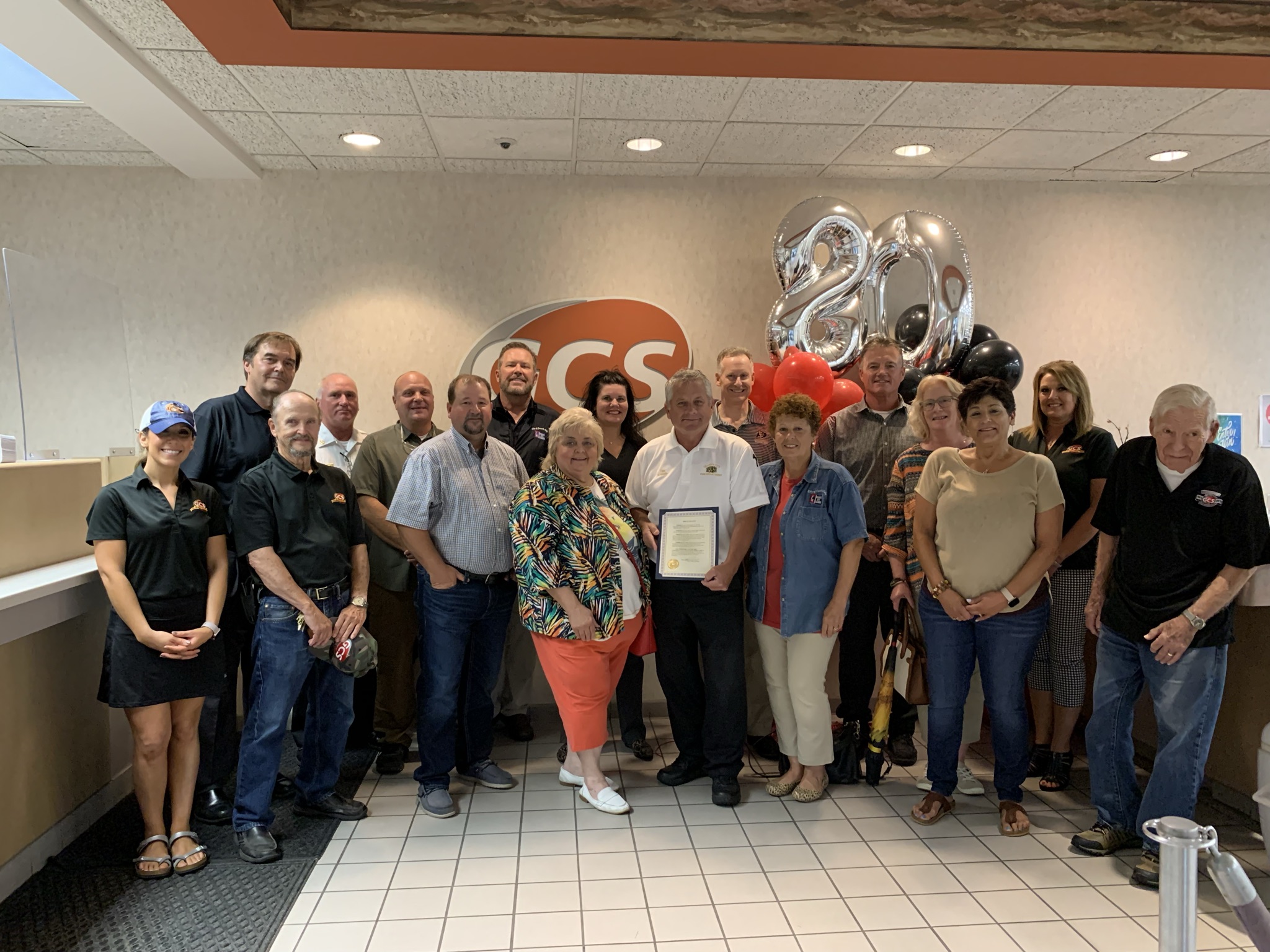 GCS Credit Union was recently presented with a Mayoral Proclamation from Mayor Mike Parkinson of Granite City, Illinois.
Mayor Parkinson, Alderman Harrington, and City staff participated in GCS Credit Union's Member Appreciation Day, celebrating 80 years of service to Granite City and the surrounding communities. Participants enjoyed a free hot dog, chips, and drink from GCS, thanking membership for their continued loyalty.
Mayor Parkinson said, "GCS Credit Union is a trusted institution in our city, a well-run organization that we're happy to have. They have done a lot of good things for the citizens of Granite City, assisting them with their financial needs."
Keith Burton, GCS Credit Union President and CEO, stated, "It is truly an honor to be recognized by Mayor Parkinson and the City of Granite City. We are proud of our 80 years of service and are passionate about our mission of people helping people. Our long history and heritage are something that we all cherish. The success of GCS is a direct result of the loyalty of our members along with the efforts of our volunteers and employees, past and present. We thank them all for their contributions and support."
June 4, 2021
GCS DONATES OVER $30,000 TO VETERANS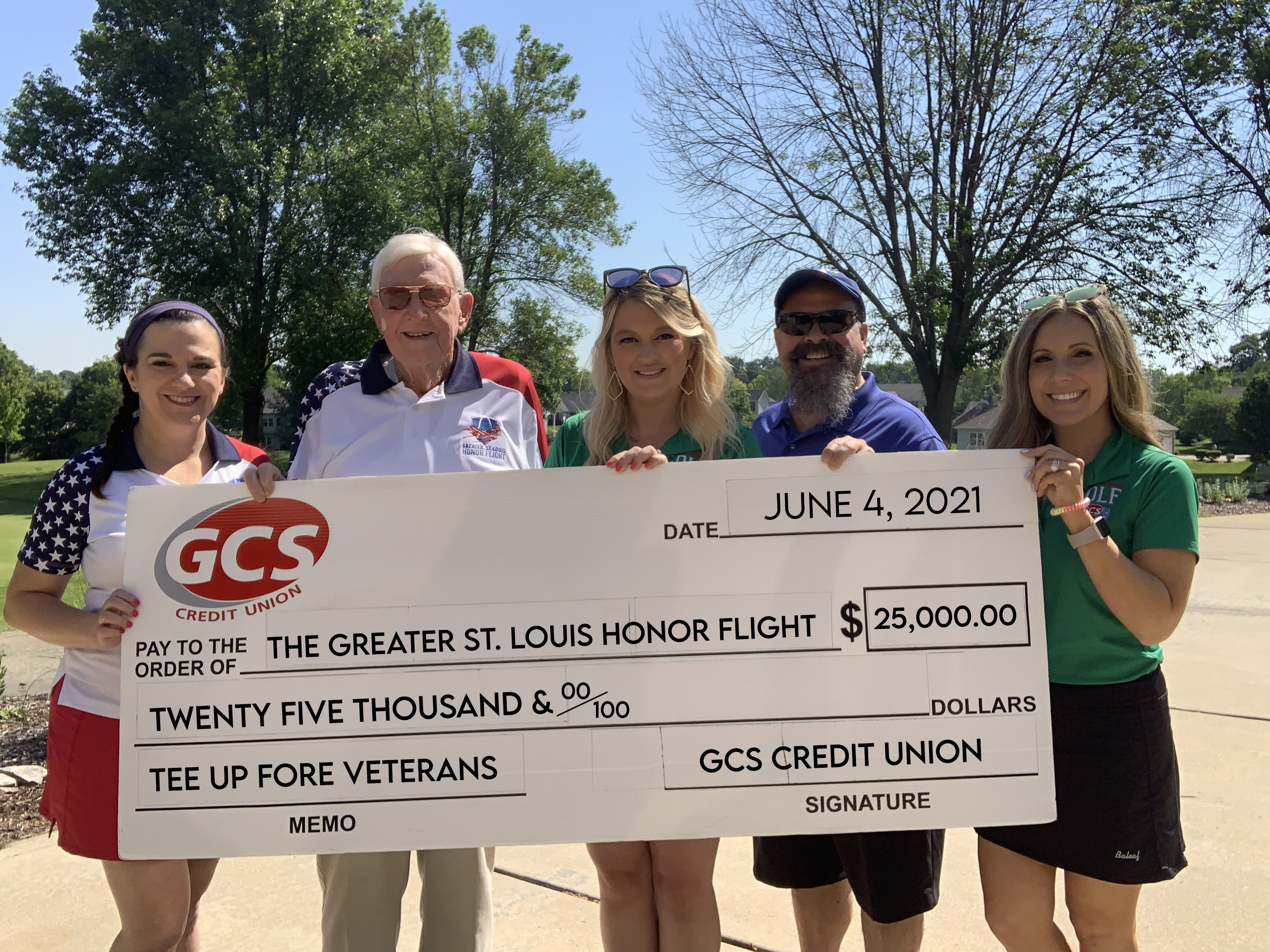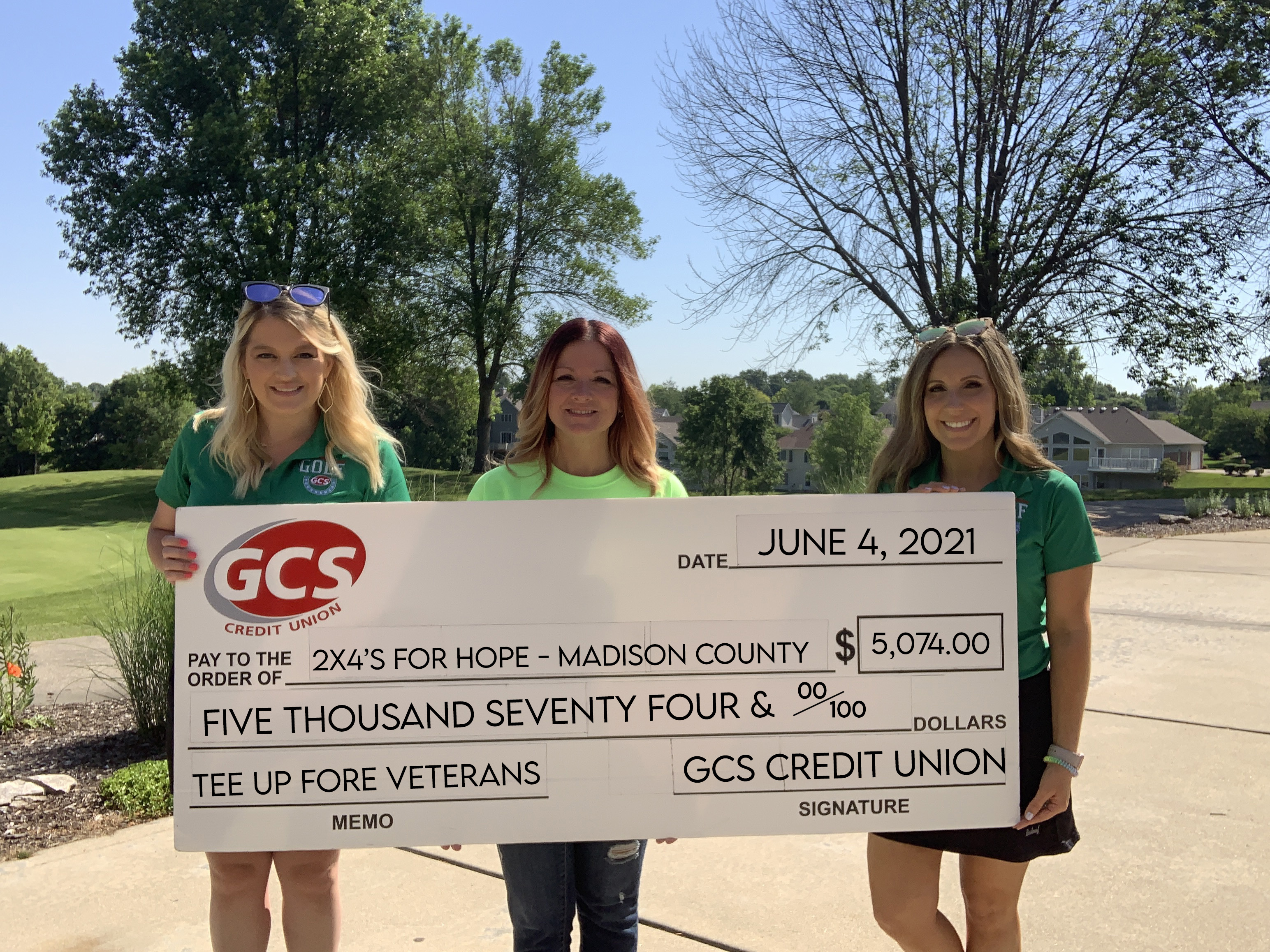 With the help of over 30 sponsors and 128 golfers, GCS Credit Union raised $30,074 during their Fifth Annual Tee Up Fore Veterans Golf Tournament.
The money raised during this event at Stonewolf Golf Club in Fairview Heights was donated to the Greater St. Louis Honor Flight and 2x4's for Hope – Madison County.
The Greater St. Louis Honor Flight received $25,000 of the tournament proceeds. This donation will sponsor an entire flight of veterans on a one day, all-expenses paid trip to Washington, D.C. to visit the memorials that were built in their honor.
The Greater St. Louis Honor Flight announced that they will be dedicating their first flight of 2021 to GCS Credit Union's former Board Director, Bert Enfield. For more details about the Greater St. Louis Honor Flight please visit gslhonorflight.org.
New this year, GCS Credit Union wanted to share the love and give a portion of the proceeds to an additional worthy cause that supports veterans. 2x4's for Hope – Madison County received $5,074 of the tournament proceeds. 2x4's for Hope is a 501(c)(3) nonprofit organization that has teamed up with the City of Madison, Illinois to build tiny homes for homeless or at risk veterans.
2x4's for Hope – Madison County is expecting to have two more builds in 2021 and another two builds in 2022. For more information about 2x4's for Hope please visit 2x4forhope.org.
Keith Burton, GCS Credit Union President and CEO, stated, "This is the perfect example of the credit union philosophy of people helping people. Thank you to everyone who has made it possible to raise more than $150,000 for veterans over the last five years."
Connect With Us
Call Us: 618-797-7993
Toll Free: 1-866-231-4427