CARD DELIVERY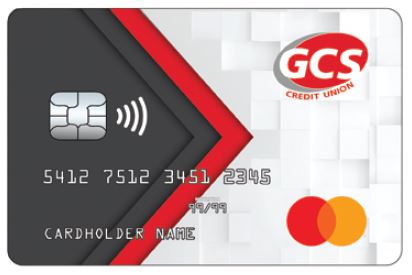 By now you should have received your new GCS Debit Mastercard®. If you haven't already done so, follow these steps now:
Call 866.985.2273 to activate your new Debit Mastercard®.
Choose a PIN. You will be prompted to select a new PIN during activation. You may choose a new one or keep your current PIN, but you'll still need to enter it.
Sign the back of your new card.
Start using it immediately.
Cut up and discard your old debit card.
Also, provide your updated card information to any merchants that automatically bill your existing debit card.
Purchases and ATM withdrawals will continue to be deducted from your existing checking account, plus you'll enjoy great benefits* including Zero Liability**, Mastercard Global Service™, Mastercard ID Theft Protection™, Mastercard Airport Concierge™, Extended Warranty, Satisfaction Guarantee, and Priceless Cities Offers & Experiences
Your existing Visa® card is scheduled to be closed soon even if it still has a valid expiration date.
*Certain restrictions apply. See Guide to Benefits for details.
All third party trademarks referenced herein are the property of their respective owners.
Mastercard is a registered trademark, and the circles design is a trademark, of Mastercard International Incorporated.
© 2022 Mastercard. All rights reserved
Answers to questions you may have:
Why are you replacing my existing card? Your new Debit Mastercard® will help us to serve you better by providing you with added benefits you can use every day.
Is there any cost to me? No, your new card will have no annual fee, just like the card it replaces.
Will my PIN remain the same? For security purposes, you will be prompted to select a new PIN during activation.
When will my new card arrive? You can expect to receive your new card within 2 weeks. When it arrives, simply call to activate, sign the back, and destroy your old card. Also contact any merchants who automatically bill your existing card to provide your new card number.
Who can tell me more? If you have other questions, give us a call at 618.797.7993.
If I have multiple accounts, will each account receive a new card? Yes. Each personal checking account with a Visa debit card linked to it will be reissued a new GCS Debit Mastercard.
If I receive more than one card, how will I be able to tell which checking account it is linked to? Simply call us at 618.797.7993. A representative will be happy to assist you.